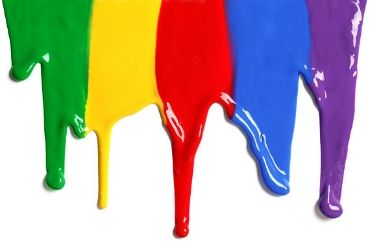 If you're considering a cafe makeover then as well as choosing new furniture you might want to pay careful consideration to the choice of colour for your walls. Colour is a powerful medium to work with. Why? Because it attracts attention, evokes a variety of emotions, and conveys messages. Not only does colour have an impact on the look and feel of your venue, but believe it or not, it can even affect the mood and appetite of your customers. So when carrying out your makeover, selecting your wall colour could be deemed as important as establishing your seating and lighting arrangement, and what music you're going to be playing. So without further ado let's dive in and take look at what different colour groups could mean for you:
Greens
Green is the colour of nature and sustainability and also instils a feeling of health and wellness. Soft pastel shades of green look lovely as a backdrop to white furniture or you could use deep greens to add dimension to your interior with some statement lighting. It's a colour that will make your customers feel relaxed and able to enjoy themselves. It's also a great colour for promoting your healthy food options.
Reds
Red is the colour of passion and not only makes your heart rate and blood pressure increase, but also triggers faster breathing. Research has shown that reds and oranges can increase a person's appetite, so by using this bold colour in your cafe, you can hopefully increase your food sales and your revenue.
Yellows
Yellow is a happy, bright colour which makes people feel good about themselves, so much so in fact, that it makes them feel less guilty about tucking into a jam filled doughnut, mid morning. Well, that's the theory anyhow! It also makes a room feel light and sunny, even on a gloomy day, which is another reason that it could make your customers feel happy, especially in the winter months.
Blues and purples
Blue inspired people to think of the sky or the ocean and can actually make a large space appear more cosy and busier. That said, the wrong shade of blue can make a room feel cold and uninviting. Blue is also not a colour known to increase appetite, That said, it is a colour that's supposed to make people feel thirsty, so if you want to sell more coffee and soft drinks, then we'd suggest using blue as an accent colour rather than on your walls.
Light colours
Light pastel shades such as white, ivory, and pale grey will help to make a small room appear much larger, brighter, and airier and also helps to put your customers in a relaxed mood. White in particular gives a feeling of cleanliness and hygiene, which makes it an excellent choice for a cafe or restaurant. Too much white, however, can make an interior appear sterile and clinical, so try introducing a couple of warm accent colours to make your seating area appear more welcoming. This could be by means of bold prints on the walls, colourful china, or even the furniture itself.
When choosing your colours think about what best represents you and your brand, and consider the colours that your competition may be using. It's always a good idea to take a look at a colour wheel before choosing your colours, that way you can see for yourself which colours act as a bold contrast and which work together in harmony and then apply it to your décor.
Here at Cafe Furniture as well as giving free advice, we also stock a wide range of cafe furniture in a variety of materials and colours, so if you're looking to inject some colour through furniture, then browse our online store or visit our showroom and get inspired. If you need any more information on any of our products then please just give us a call on 07 3205 1626 and our friendly, knowledgeable staff will be pleased to assist.