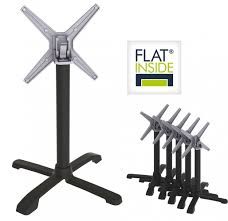 If you're anything like me then no matter which table you choose to sit at in a cafe you always end up with a wobbly table. It's the bane of cafe owners and it also drives me crazy. I've chosen to sit and relax with a cup of coffee and the last thing I want is to be worrying about half of its content sloshing into the saucer! The thing is, in this day and age there's no longer any excuse for any cafe owner to expect their customers and staff to have to put up with tables that are unstable and wobbly, and that's thanks to the ingenious invention of 'FLAT technology'.
What exactly is FLAT technology?
FLAT technology is an innovative, world wide award winning product which stabilises tables automatically and also allows owners to align their tables on any surface seamlessly. It works by pumping hydraulic fluid through a small series of pipes which are hidden inside a FLAT table base. The ingenious technology responds instantly by adjusting the table feet ensuring it is stable on any surface and cleverly locking them into place. No matter how many times the tables are moved, the technology will re-adjust the table feet, stabilise the table, and lock them back into position. By using these table bases it's also quicker than ever before to align a series of table tops without suffering from that annoying 'lip' that always occurs.
The good news is we are an authorised dealer for FLAT table bases and hold a wide stock of tables bases to meet all your commercial needs. But that's not all……
FLAT Equalizers
For customers who don't want to invest in a whole new set of table bases we also now stock FLAT technology table feet equalizers which stabilise an owners existing tables on an uneven surface, putting an end to wobbly tables for good. These equalizers are fitted in seconds and don't require any handyman skills or even any tools. They stabilise the table quickly and easily simply by a light press on the tabletop. Supplied with a variety of thread sizes they'll fit virtually any table that has screw in feet. Simply remove the feet and screw in the FLAT equalizers. Job done!
Our customers have never looked back since purchasing FLAT products and say that it saves their staff time in the morning, since they no longer have to go around levelling up tables with rubber wedges, which gives them more time to concentrate on delivering a better level of customer service.
If you're interested in making your staff and your customers happier by putting an end to wobbly tables then why not come and see how they work for yourself by visiting our showroom in Brendale. Or if you need more information about any of our products then please give us a call on (07) 3205 1616 and our knowledgeable staff will be happy to assist.