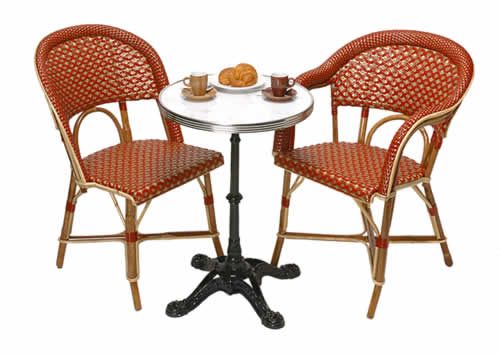 Although some cafes just provide counters and standing space, the majority of customers prefer a cafe table. Why? A cafe table is somewhere to place your mug of coffee. It's your own bit of space in what can be a very busy environment. It's also somewhere to lean, somewhere to relax, a table on which to have your mobile phone in full view to save keep getting it out of your pocket. It's also a table around which you can huddle with family or friends as well as make-shift office space for freelancers.
If these aren't enough reasons, cafe tables also look great and complement your seating, maximise your space, and encourage customers to stay for longer and feel more comfortable. So much so, that they'll probably even order some food.
So what makes a good cafe table?
The answer to this quite simply is variety. People come to coffee houses for all manner of reasons. Some just want a quick drink and then to be off. Others may be holding an informal business meeting, and some may be catching up with friends for a chat after finishing work.
It's important to understand your customer's requirements and offer a variety of tables/seating to suit their needs.
Dry bar tables
Dry bar tables are perfect for optimising your floor space and are ideal for solo diners or couples who have just called in on a whim to grab a quick drink and maybe some food, before going on their way. Have these tables placed near to your door so that customers can enter and leave without having to navigate around a maze of tables and chairs. In your busiest times, you can also use dry bar tables as a place to rest customer drinks when it's standing room only.
Booth seating
Families or small groups of friends love booth seating since it offers more private space and allows them to supervise their children and be on hand to help cut up their food at the table. They take up less space than regular cafe tables and could be utilised down one side of your seating area
Choice of table sizes
Using a variety of table sizes makes the most of your floor space and allows for increased flexibility. If for example a group of say 6 people come into your cafe, then you might need to move two tables close together to accommodate them, which is why it's best to have some smaller tables that you can easily place alongside larger ones. 600mm tables are commonly referred to as a 'table for two' and these are great for solo diners too, and saves them from taking up a table intended for 4 people.
Communal tables
Communal dining is also a popular choice and these long tables can easily be used alongside one wall. Not only does it make sense to have these tables for parties and special events, but again it means that single diners can easily squeeze in and who knows, meet a new friend in the process. Remember to use side chairs or stools so that you can seat more people without them bashing each other's elbows when eating.
Here at Cafe Chairs Melbourne we have a wide assortment of indoor add outdoor tables in different styles, materials, and colours, Why not browse our online store or call into our showroom to see them for yourself. Meanwhile if you need any further information on any of our products just give us a call on (07) 3205 1616 and we'll be pleased to help.