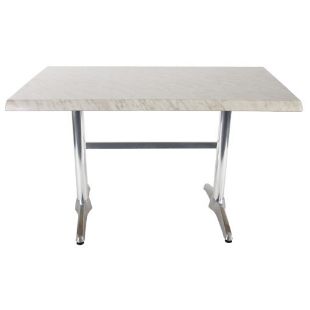 Communal dining has been in existence for as long as there has been chairs and tables. Would the last supper for example, have taken place without communal dining? The fact is that love it or loathe it, being sandwiched between strangers while eating your meal or drinking your espresso, alongside people you don't even know remains popular. True, it mightn't sit well with everyone but restaurant chains from Mcdonalds through to Red Rooster have embraced the ethos of communal dining in a big way.
It could be argued that having large shared tables in your cafe, bistro, or restaurant creates an amiable 'welcome all' policy which is undoubtedly inviting for many, but not only this – from a business perspective, communal dining allows you to maximise your seating potential and therefore boosts your profits.
The problem is that it's a risky strategy because not only do you run the gauntlet of alienating those who just aren't comfortable with the whole concept, but also you're faced with the fact that large tables take up quite a lot of space, so that's a lot of potential revenue lost in terms of space if you get it horribly wrong. So what do you do?
Do your homework
If you like the idea of communal tables then do your homework first. Why not run a quick survey on passers by and ask them what they think. Check out other café's in the area and see what they're doing; or better still, go and have a coffee and get chatting to individuals inside and ask their outright opinion. After all, they're the ones you're trying to entice into your establishment right?
Run an experiment
Rather than turn your whole cafe into a communal dining establishment why not dip your toe in the water and create a small communal section. Monitor it and watch how it goes. Get regular feedback and say after a couple of months, try and qualify the results. Based on this you might want to turn your whole cafe into a communal dining experience. If so, then you've also now got an edge. Why? Because your cafe is different and that means that you stand out from the crowd.
If you like the idea of larger tables for communal dining purposes then you should take a look at Cafe Chairs Melbourne. We stock a wide range of commercial grade cafe furniture including larger tables at great value for money prices. To find out more visit our site at cafefurniturebrisbane.com.au or contact us directly on 07 3205 1616. Alternatively, if you're passing the Brendale area of Brisbane the you can always pop into our warehouse and take a look for yourself.