Welcome to the blog at Cafe Chairs Melbourne. Here we'll be posting a variety of topics to share with our readers including reviews of some of our most popular pieces and details of new products that have landed on our shelves. We'll also be discussing the history behind some of the iconic brands, the latest trends in cafe culture, and giving you hints and tips on how to choose the right cafe furniture for you, and how to incorporate it into various themes. We're hoping that you'll find the content interesting and useful, so please feel free to post any comments below. We'd love to hear your thoughts. Best wishes from the team at Cafe Chairs Melbourne
A Chair That's Sure to Turn Heads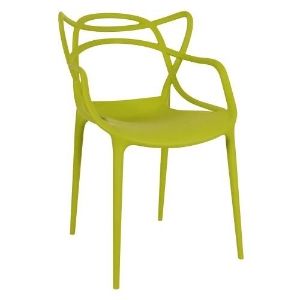 With spring finally here and summer to look forward to there's never been a better time to spruce up your outdoor eating area in order to attract more customers through your doors. Everyone knows that a bustling outdoor area full of happy smiling customers acts as a magnet to attract people to it, so what are you waiting for?
Polypropylene is a great choice for outdoor dining chairs and comes in a huge range of styles and colours. If you thought that polypropylene chairs were a little boring and unimaginative then you might seriously want to think again.
Ribbons Chair
One of our best selling plastic chairs is the Ribbon Chair which takes its inspiration from the Phillipe Starck Masters Chair. The brilliant French designer is well known for a wide range of designs from toothbrushes, chairs, and even houses. Having gained international acclaim for a variety of worldwide interior design commissions he was able to adapt his work to seek the needs of individual clients whether they wanted a traditional design or something modernistic. One thing that never changes, however, is his love for fluid lines and playful details.
Roomy and comfortable
The Master's Chair is a hybrid for 3 iconic chairs: the Series 7 by Arne Jacobsen, the Eiffel Chair by Charles Eames, and the Tulip Armchair from Eero Saarinen and is sure to turn your customers' heads for all the right reasons. Our ribbon chair mimics the original Masters Chair and is manufactured from just one piece of polypropylene so there are no uncomfortable seams or joints. The chair is roomy and comfortable and supported on slender legs. The backrest blends the original 3 designs with solid lines and voids that flow together to give it a distinctly attractive appearance. Available in black, green, red or white and stackable for convenient storage, there's sure to be a Ribbons chair to suit your venue.
Stuck for ideas?
Why not pair black ribbons chairs with shiny stainless steel tables for a look that is fresh and modern? Add some colourful parasols for much-needed shade and some planters filled with foliage to separate groups of tables and people will be queuing for a table. Alternatively, how about using wood tabletops and placing green Ribbons chairs around them for a look that is more organic? Our chairs are UV treated so less likely to fade in the sunshine and light and easy to move around to meet customer demands.
Cafe Chairs Melbourne stocks a wide range of outdoor cafe chairs so why not browse our online store or visit our showroom where you can try out our products for yourself?